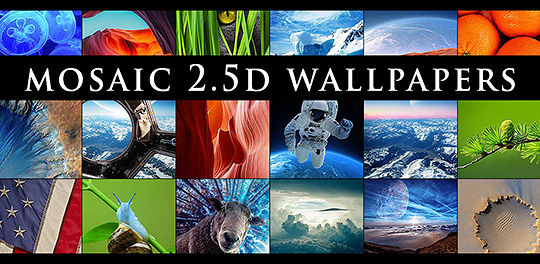 MOSAIC 2.5D Wallpapers is a library of 66+ 2.5D wallpapers and GROWING! All wallpapers FREE.
This wallpapers from 2D flat image move to 3D with nice 3D effect. It have a depth, realy 3D depth, not flat planes. Wallpaper move if you move phones. Gyroscope is uses to move camera. Some wallpapers have panoramic size and you can move it on screen (left-right).
I will add wallpapers to this library every week. Not all images looks great from this technique, but I try preparing all types of images and adding it to library. More with planets and space of course 😉
If you want your picture was placed in the library, please send me a link to a page where you placed the image with copyright CC0. All images on this library are released free of copyrights under Creative Commons CC0 or created by my self. This wallpapers works better on phones, but panoramic images looks great on tablets too.
Please rate it. Thanks!